Article by: Angel Hsu, Niklas Höhne, Mark Roelfsema, Takeshi Kuramochi, Amy Weinfurter, Katharina Lütkehermöller, Nomawethu Moyo, Yihao Xi, Swithin Lui, Andrew Feierman (Data-Driven Yale, NewClimate Institute, and PBL Netherlands Environmental Assessment Agency)
See this blog on the websites of Data driven Yale and PBL Netherlands Environmental Assessment Agency.
---
The 2018 Emissions Gap Report that will be released next week will feature the contribution of cities, regions, and business to bring the world closer in line with global climate goals. More than 5,000 of these "non-state actors" came together this past September to pledge hundreds of new initiatives at the Global Climate Action Summit. But how much do these efforts add to non-state climate action already pledged?
According to the recent IPCC Report, all countries and non-state actors need to strengthen current commitments without delay, as we may have as little as 11 years to avoid overshooting 1.5 degrees C of global temperature rise – and escaping the worst impacts of climate change. Preventing the most threatening impacts of climate change will demand an unprecedented transformation to a decarbonized society — necessitating peaking of global greenhouse gas emissions before 2030 and achieving carbon neutrality by 2050. This urgency demands that everyone —  national governments in collaboration with cities, regions, companies, investors and civil society — implement, innovate and accelerate efforts to mitigate, adapt, and unlock funds to address climate change.
The call to action for city, region and business actors was highlighted at this past September's Global Climate Action Summit, held in San Francisco, where Governor Jerry Brown made some far-reaching announcements to commit the state to carbon neutrality and launch their "own damn satellite" to monitor carbon emissions. An estimated 500 announcements were made from a range of actors and sectors and offer some early indications of how climate action is building, where gaps remain, and how progress is — and isn't — being measured. Here we distill some of the key outcomes from the many commitments announced at GCAS, as a way of  capturing key trends and areas to track future progress.
These tables summarize the growth of key initiatives and some especially impactful announcements made at the Summit.
What was pledged?
Encouragingly, many different actors around the world are working towards full decarbonization. Governor Jerry Brown's 2045 pledge of carbon neutrality is among decarbonization commitments from more than 100 leaders, which include mayors representing 70 big cities with approximately 425 million citizens, aiming for carbon neutrality by or before 2050. These local and regional governments are joined by businesses like Mahindra & Mahindra, India's leading manufacturer of utility vehicles, which announced a pledge to reach carbon neutrality by 2040. While these actors often still need to build the logistical and political frameworks to realize their decarbonization targets, they also signal of the shape of future policy and business environments, in ways that may help catalyze additional change.
Memberships in many other existing initiatives — including the RE100, Science-Based Targets, EP100, EV100, #ZEV Challenge, and the Net Zero Carbon Buildings Declaration — also grew significantly. In addition to covering a larger emissions footprint, more participation and buy-in into cooperative initiatives can catalyze sector- or industry-wide shifts towards more sustainable practices. It's worth noting, however, that these actors are often at vastly different stages of realizing their pledges. Of the 492 companies committed to setting science-based targets — which reduce a company's emissions in line with the Paris Agreement goals — 141 have created approved targets, while others are still in the midst of developing them. Tracking the extent to which commitments are implemented will be critical to avoiding greenwashing and building confidence in pledges' impact.
Where is more attention needed?
The Summit also highlighted areas where more mobilization is needed. Several initiatives, including the C40 Zero Waste Declaration, Cool Food Pledge, and Pacific Coast Collaborative, announced or expanded efforts targeting waste, an area that has often fallen under the radar of climate action efforts, but which could have significant emissions savings. If the Pacific Coast Collaborative succeeds in its goal of reducing food loss and waste 50 percent by 2030, it could remove 25 million tonnes of greenhouse gas emissions.
The Summit also highlighted the role of land use as a "forgotten solution" that could potentially deliver 30 percent of emission reductions needed by 2030 — but which only receives 3 percent of current climate funding. Efforts to help mobilize action on this issue dovetail with continued efforts to better capture and map the emissions impact of conservation, restoration, and improved land management activities across the world's forests, wetlands, grasslands, and agricultural lands.
Access to funds and finance also made headlines. 29 philanthropists pledged $4 billion over the next five years to combat climate change, an important step towards growing the less than 2 percent of philanthropic giving focused on climate change. An in-depth analysis of cities' infrastructure projects around climate change found that nearly 400 cities are asking for support preparing and financing 1,143 projects worth close to US$60 billion. London, New York City, and C40 Cities Leadership Network launched the C40 Divest/Invest Forum, which will help urban leaders share best practices, knowledge, and tools proven to accelerate divestment and green investment. A new methodology aims to help banks quantify the climate risks in their corporate loan portfolios, to help them avoid the risks and capture the opportunities in the transition to a low-carbon economy.
The Summit also represented an opportunity traditionally underrepresented regions to showcase their efforts. The Summit highlights some early indications of efforts to shed more light on action in  locations traditionally overlooked in climate action tracking platforms. Chinese business leaders at the China Pavilion highlighted the China Business Climate Action Initiative – a coalition of 800,000 members committed to incorporating climate change into their corporate strategies. ActionLAC builds non-national actors' capacity to take climate action in Latin America, while Alianza para la Acción Climática de Guadalajara, a network of over 35 Mexican entities, helps implement the national climate goal of reducing the country's greenhouse gas emissions by 22-36 percent. One exploration of climate action in the Global South found that 39 out of 64 analyzed companies on the Nairobi Securities Exchange highlight the business impacts of climate change in their annual reports, often linking their own climate actions with the Sustainable Development Goals.
How does it all add up?
While the Summit captured — and helped continue — a heartening mobilization of cities, regions, companies, investors and citizens committed to shifting the world's emissions to safer levels, a major question is whether these efforts add up to anything beyond national government policies.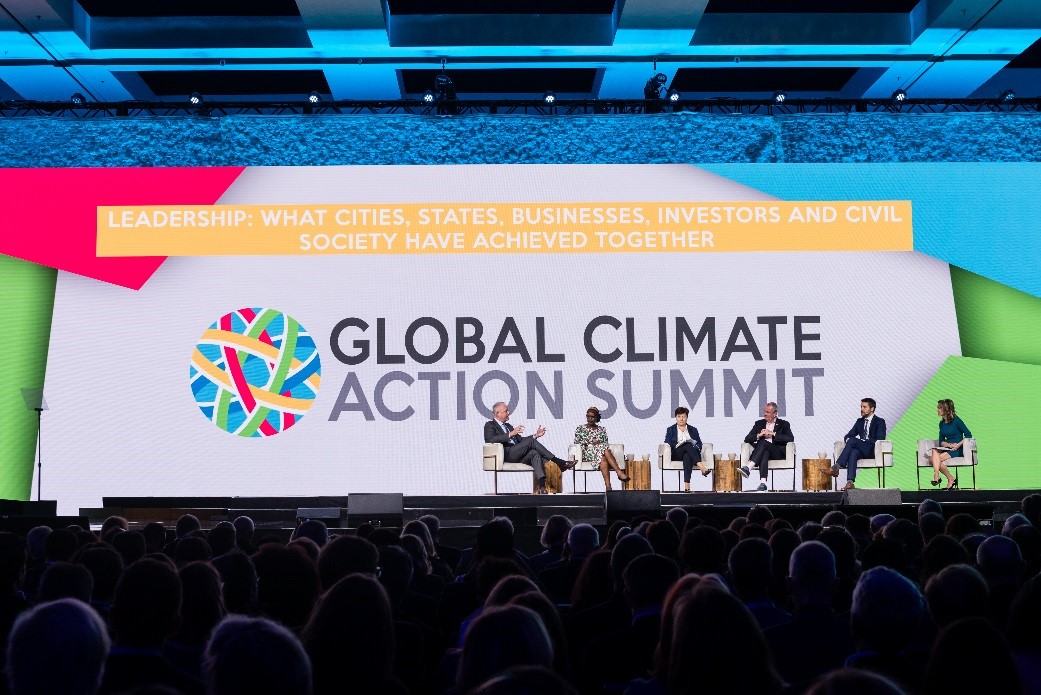 Our recent report, Global climate action of cities, regions and companies, quantifies these actors' impact on the bottom lines of national and global carbon budgets. It finds that individual city, region and company commitments could reduce emissions beyond what current national policies can deliver in the order of 1.5-2.2 GtCO2e in 2030 — roughly double Canada's total annual emissions. This additional effort would help the world get closer to achieve the Paris pledges or Nationally Determined Contributions (NDCs). These reductions, however, are not enough to shift the world to a safer warming trajectory, where roughly tenfold those reductions would be necessary.
First order estimates suggest that emissions reductions from this new slew of commitments might come from the Powering Past Coal Alliance, where new members may be able to reduce the committed global 500 MtCO2e GHG emissions from existing, constructed and currently planned coal-fired power plants (Edenhofer et al, 2018). A full global phase out all coal-fired power plants and cancelling planned construction would reduce emissions by around 10 GtCO2 by 2030, but this initiative does not include countries with large coal commitments such as China, India, Turkey, Vietnam and Indonesia (ibid). We estimate that new participants for the Science-Based Targets and RE100 initiatives could edge these initiatives beyond current policies by 135 MtCO2e and 50-100 MtCO2e closer to their potential in 2030, respectively. California's announcement of an economy-wide carbon neutrality goal for 2045 has an impact of over 30 MtCO2e additional annual emissions reductions on our estimate of individual commitments by 2030. The C40 Advancing Towards Zero Waste Declaration could cut roughly 0.5 MtCO2e through reduced landfill use, a number that could grow to 20 MtCO2e if all countries were to adopt this target.
This mitigation potential hinges on actors' and initiatives' ability to meet their goals — goals that often include, for initiatives, targets to grow their membership. Some research has begun find encouraging progress — 70 percent of analyzed initiatives achieved high or medium- high performance, producing outputs that could help achieve their stated environmental and social indicators — but significant uncertainty remains.
Going forward, it will be crucial to watch if and how initiatives harness this momentum to accomplish their goals, and continue to focus attention and resources on critical and overlooked sectors.
---
All pictures: Nikki Ritcher Photography, courtesy of the Global Climate Action Summit