The EU wants to become a climate neutral economy by 2050. Achieving this goal requires transforming the way we produce, consume, move, and eat. This European Climate Neutrality Observatory's (ECNO) first flagship report "State of EU Progress to Climate Neutrality" looks at observed changes across a comprehensive set of over 100 economic and social indicators, and compares them against EU benchmarks to judge real-world progress towards climate neutrality, as well as assessing the factors that will enable future progress.
Key findings
The first assessment of progress towards climate neutrality shows: The EU is moving in the right direction, but pace is too slow
Action is most needed where objectives and key underlying enablers have been progressing far too slowly or not at all. The progress assessment shows that the EU has moved in the right direction, but needs to significantly pick up the pace of change to be on an effective path towards climate neutrality by 2050. This overall promising orientation was the case for all building blocks except for finance and carbon dioxide removals. A look at the additional policies adopted under the European Green Deal in the past two years indicates that the EU is taking steps to accelerate progress in most areas. This already shows in the governance system for climate policy that is assessed as being 'on track'.
An in-depth, indicator-based understanding of real-world change: An overview of progress across all building blocks for reaching climate neutrality
At the outset of European Green Deal implementation, only one of the building blocks (governance) - showed developments at a pace that puts it 'on track'. The observed trend for three (electricity, just transition, clean tech) of 13 building blocks was 'too slow' and in seven (agrifood, mobility, industry, buildings, lifestyles, adaptation, external action) 'far too slow' when compared to what EU documents set out as is required to be on a path to climate neutrality by 2050 at the latest. In two areas (CDR, finance), developments were moving in the 'wrong direction'.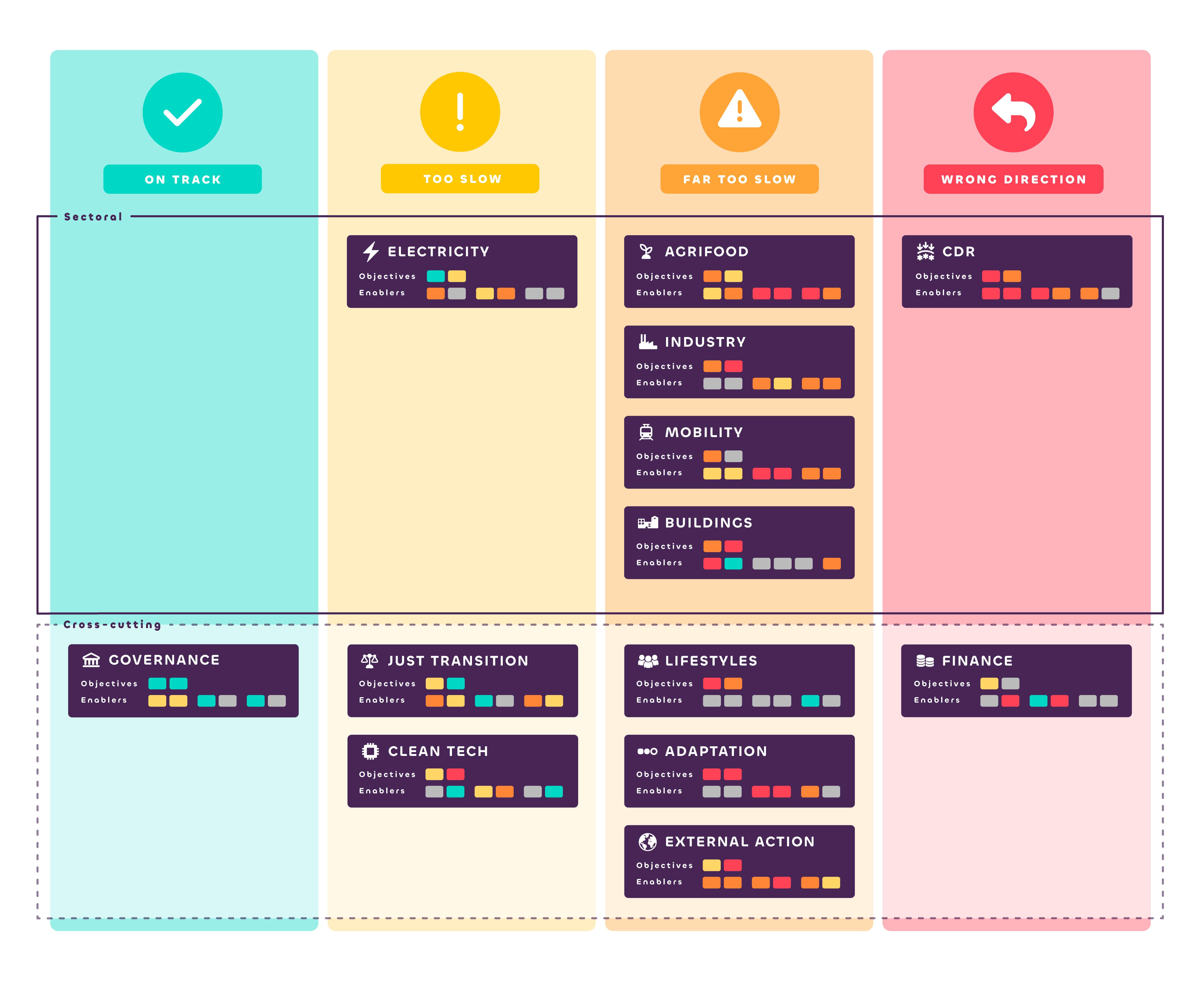 Examples of findings from sectoral and cross-cutting building blocks
For the electricity sector for example, the emission trajectory is on track, but the underlying drivers are not. In the past, emission reductions in the sector were driven by a shift to gas from coal together with a renewable energy uptake. To sustain this trend moving forward, renewable uptake needs to be speed up further, from 1.5% of new generation p.a. to 3.2% p.a., and the fossil fuel phase-out accelerated. What needs to be done, according to our analysis:
To speed up renewables uptake, policies in the EU countries need reform, especially for wind
A coordinated and well-funded approach to grid extension is needed across the EU
A shift from existing gas as a flexibility option to clean option is needed
Currently the pace of transition for the mobility sector is far too slow. For a transformative shift in this sector, reducing motorised transportation, promoting clean modes, and decarbonising remaining transport are essential. Highlights from our analysis are:
Trends in modal shares are going into the right direction
EV sales have reached record high levels in 2022
Promising policies are being proposed and implemented on the EU level
In our analysis we find that the EU's current policies in the agricultural sector are insufficient for climate neutrality. Current EU agricultural policies and payment structures have supported large farms and i ntensive animal agriculture instead of climate mitigation. This is evident in stagnating agricultural emissions and rising fertiliser consumption and livestock emissions. Key findings from our analysis include:
Trends in consumption patterns are headed towards the right track, but must accelerate to be aligned with climate neutral emission scenarios
The EU lacks a detailed plan for the agricultural sector. Developing further targets, such as for livestock emissions, can improve mitigation efforts while being mindful of the sector's constraints
We also looked at the EU's external action and find: To support global climate neutrality, the EU must consider the extraterritorial impacts of its actions, engage in climate diplomacy, and support other countries in decarbonisation. Here the highlights from our assessment of this building block:
The EU is a top climate finance donor, but it has a long way to go to meet the "fair share"
The EU's "climate bank" continues to finance fossil fuels abroad
Action is needed to match the narrative of climate mainstreaming
The EU Commission will release its first assessment of progress to climate neutrality in September 2023.
ECNO's findings serve as an independent accountability check against the EU's own assessment. The Commission will not repeat the exercise again until 2028, which ECNO is concerned will leave a long gap in which necessary course corrections may be neglected, with a lack of granular and comprehensive analysis to inform decision making.
ECNO is a consortium of leading European research organisations with expertise spanning the fields of climate policy, governance, economics, and finance across the whole economy. The ECNO partners besides NewClimate Institute are Ecologic Institute, Climact, Reform Institute, and Institute for Climate Economics (I4CE). ECNO has been incubated by the European Climate Foundation.