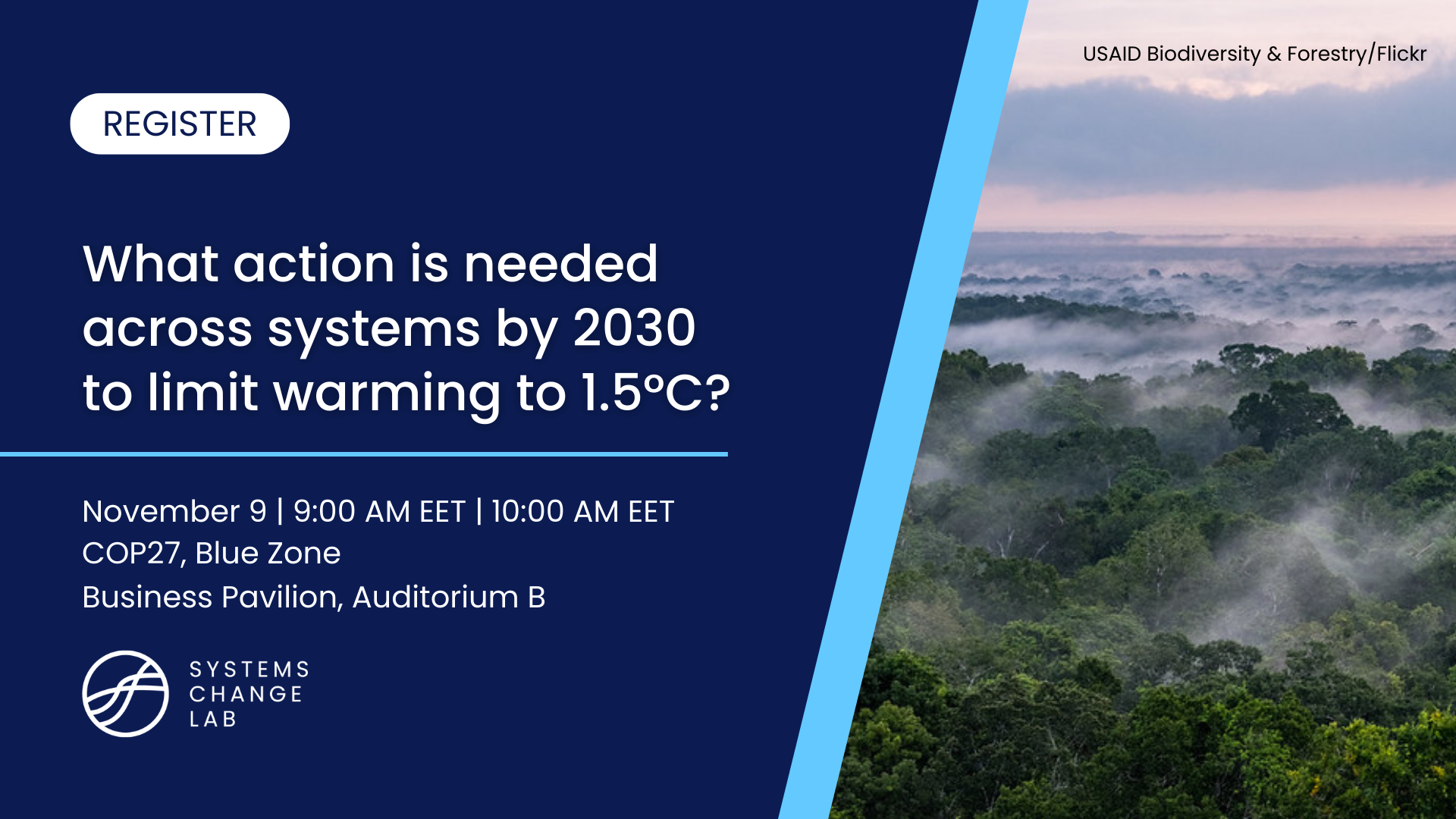 Delivering climate action by 2030 to limit warming to 1.5°C will require rapid transformations across our major systems – energy, industry, food, forest and land, finance and more. To what extent are we on track? Where is change accelerating or lagging? What trends are revealed across these interconnected systems? How can we bolster the enabling conditions needed to scale transformation and navigate barriers?
Systems Change Lab at COP27 unveiled our new open-source data platform and discussed the latest findings from the State of Climate Action 2022.
Speakers:
Ahmed Saeed, Vice President, Asian Development Bank (invited)
Andrew Steer, President and CEO, Bezos Earth Fund
Ani Dasgupta, President and CEO, World Resources Institute
Bill Hare, CEO, Climate Analytics
Catherine McKenna, Chair, UN High Level Expert Group on Non-State Net-Zero Commitments (invited)
Helen Mountford, President and CEO, ClimateWorks Foundation
Jen Austin, Director of Strategy and Policy, UN Climate Change High-Level Champions
Kelly Levin, Chief of Data, Science, and Systems Change, Bezos Earth Fund
Rachel Jetel, Co-Director, Systems Change Lab, World Resources Institute
Sophie Boehm, Research Associate II, Systems Change Lab, World Resources Institute
The event started at 9h00 local time / 8h00 CET.
About Systems Change Lab:
Systems Change Lab is a collaborative initiative designed to spur action at the pace and scale needed to tackle some of the world's greatest challenges: limiting global warming to 1.5°C, halting biodiversity loss and building a just and equitable economy. Systems Change Lab has identified more than 70 transformational shifts needed to protect both people and the planet, highlighting current action against climate, biodiversity and equity targets. The new data platform identifies which shifts are accelerating or heading in the wrong direction, as well as the key forces driving these changes. Convened by World Resources Institute and the Bezos Earth Fund, Systems Change Lab supports the UN Climate Change High-Level Champions and works with key partners and funders including Climate Action Tracker (Climate Analytics and NewClimate Institute), ClimateWorks Foundation, Global Environment Facility, Just Climate, Mission Possible Partnership, Systemiq, University of Exeter and the University of Tokyo's Center for Global Commons, among others. Systems Change Lab is a component of the Global Commons Alliance.